Interview – Thomas Gilbert
Thomas Gilbert is a Canadian Disc Golfer currently touring on the DGPT and PDGA National Tour. Thomas was Innova-sponsored for quite some time but has found a new and terrific home with new sponsor; Prodigy Discs. His content can be found in live coverage rounds, tutorials and more across various YouTube channels like his own, Jomez Pro, Gatekeeper Media, GKPro, True North Disc Golf and others.
Did you have a sports background prior to disc golf?
Growing up I played a ton of sports. I was on all kinds of school sports teams such as cross country, volleyball, soccer, swimming, badminton, tennis, track and Field, baseball, and of course Ultimate Frisbee.
Do you recall what course or even the hole you were on when you fell in love with disc golf? Can you tell us about when that happened?
I can remember it was hole 15 at ET Seton disc golf course, Henrik Londen showed me how to do a proper reach back and I then proceeded to throw the disc twice as far as I ever had before, and I was hooked.
What are the Thomas Gilbert top three tips for players doing most of their throwing on wooded courses?
Know your discs stability
Throw the shots that best shape the gap
Be confident in you ability to execute the shot
You can throw well over 600ft at will with a lot of discs but, everyone has that first disc that really started to make distance more exciting. Which disc was that for you as a newer player?
Blizzard destroyers used to bomb for me!
Where does accuracy come into play when it comes to learning how to throw further?
---
I think it's much easier to learn how to throw far first and then learn to narrow down the accuracy. If you fine tune your whole form first that will make it harder to change the muscle memory to throw farther.
You had advice from some of the biggest names in disc golf on how to switch manufacturers when you switched from Innova to Prodigy earlier this year. What would you say was one challenge that you didn't see coming in the process even after all the support?
Trying to find some of the discs that were necessary for my arm speed and for the shots that these pros were throwing.
Many current and former Prodigy athletes also reached out to you with discs at the time of the move, can you share some of the best of the bunch and whom they came from?
Chris Dickerson reached out really early to give me a bunch of early run D1's and D2's, Kevin Jones also gave me a bunch of good runs of his drivers, Jeremy Koling gave me what he had left of his tournament bag from when he was with prodigy, and several other pros gave a few discs here and there from their backups.
You have likely played a high number of Canada's disc golf courses from the most beautiful to the average park and beyond. Can you give us your top three courses Canada-wide but also a true underrated hidden gem?
I would say Canada's top three courses are Hillcrest Farms in PEI, Raptors Knoll in BC, and Project 15 in Ontario. A hidden gem is probably going to be Dad's of Muskoka, it's a really fun pitch and putt course that is really pretty.
You play every event you play with the best players on the planet and some of the best all-time, is it inevitable that the form and technique between world-class players with influence each other?
Definitely, I would say that a lot of pros, especially up and comers, have molded their form of some of the legendary players of the sport. We can all see something that a certain player does that works really well and test out whether that form can possibly work with our throws.
I am sure some Canadian disc golfer might want to know..Are there any notable hockey fans across the PDGA field?
Any pros from Minnesota and Massachusetts.
Five things you miss the most about Canada while touring the US and Europe most of the year?
I miss the summer weather, my local disc golf friends, my family, free healthcare, and home cooked meals!
Many Canadians go on disc golf vacations and enjoy playing outside of Canada. What three parts of the world should Canadians consider visiting for the area's disc golf and tourist attractions when it becomes safe to travel again?
I would highly recommend going to Portland, OR for amazing amazing courses they have, Santa Cruz is a really fun area to play disc golf and hang out, and finally the dream location would be in Nokia, Finland to play The Beast and Tampere disc golf park.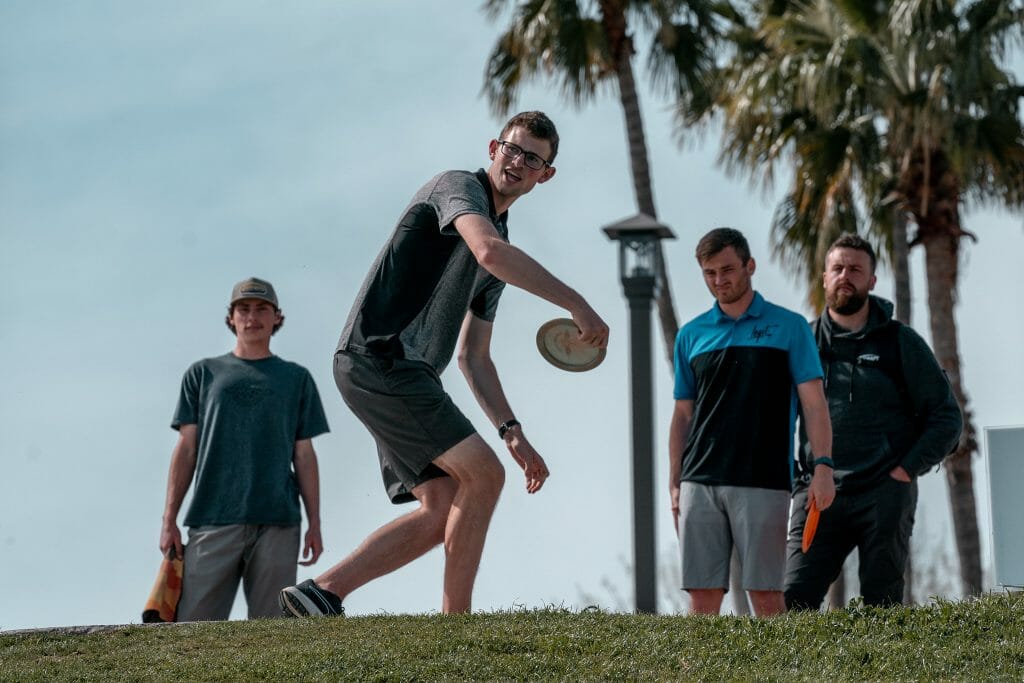 Every disc golfer needs a swiss army knife / jack of all trades type disc. Which disc in your bag has that job currently and what flight characteristics make for a good disc for this slot in general?
The FX2 has been my utility disc so far with Prodigy, I can use it for forehands backhands skip shots.
Looking past the COVID-19 struggles, do you feel the sport will continue to grow when the world and it's regular activities resume? If so, how do you feel TDs should tackle the boom in demand for tournaments?
I think disc golf will continue to grow a tonne once the pandemic is over. I think this growth has gotten the ball rolling and more and more players will discover the sport from the players that have this past year and a half. I think TDs will need to tackle the boom of demand by opening up their events to tee times or three day weekends to increase field sizes.
We want to humbly thank Thomas for his time! Be sure to follow him on the following social media links! YouTube, Facebook, Instagram! Prodigy Disc Golf