How to play SAFARI / Object Golf!
During COVID times, many people have been forced to basically put their hobbies on hold indefinitely. Many sports and other hobbies have been cancelled, postponed, moved, bumped or just outright banned. Disc golfers have been lucky enough to not be overly affected by the many levels of covid restrictions placed on communities but for those that are faced with course closures, there's another way.
Disc golf's beginnings in Thunder Bay and actually the beginnings of the sport in general come from something we call object golf. This is a way of playing disc golf that does not require baskets where instead of the usual disc catching apparatuses that we all know and love, disc are instead thrown at an object like a tree, shrub, stump, rock and so on.
The targeted object can be chosen in the moment by the player(s) or predetermined in the form of mapped out course. In fact, our very own disc golf hot spot; Birch Point DGC was once such a course. In BP's early stages, a small group of players spent nearly two years throwing at marks on trees and / or items fixed to trees before the course installed their current disc catchers.
Have you ever been hiking or walking and had your attention taken away by an irresistible line? Well if you bring a putter or mid range, you can stop to take the time to find out if it's really as fun as it looks. Bringing a disc on hikes or walks can turn into a fun mobile game of object golf in the right spots. Opportunities to throw are all around us, a basket is only a formality.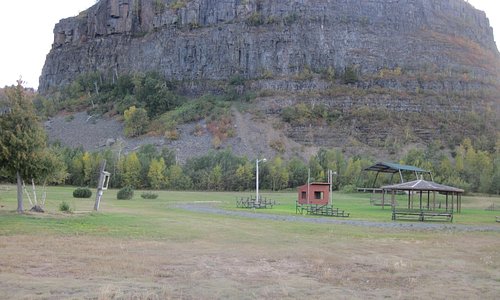 As always, pedestrian safety and common sense are the first and foremost factor. Remember, the people that use the pathways around Birch Point DGC can at times be unaware of the flying discs in the sky around the park so if you are in an area that does not normally play host to disc golf, the pedestrians have the utmost right of way. Be safe, never throw blind shots and be aware of what's ahead if you are throwing.
Another amazing disc golf investment for every player is a traveler-style / portable basket. Many companies make these but you get what you pay for so cheaping out isn't really advised. Good news is that even the best traveler baskets are still pretty affordable so getting something durable won't cost too much. Having a basket like this to fold up into a tent-style bag is the perfect addition to any camping / road trip because it makes any space into a disc golf space in about 15 seconds of set up time. A good way to work this is to bring one portable and have everyone take turns running out to set the basket's position. Let's be honest, throwing at a basket can make the experience a bit more enriching for all and having one always makes a safari course an option.
We want to be clear about which areas are ok for object golf and which might be better off left alone. Choosing popular hiking and walking spots to let discs rips is not a recipe for a good time for anyone, in fact, it could make for an injury and a poor public perception of the sport. When choosing your object golf hideaways, ensure that if you are sharing the space with others that their safety is not compromised at any point. Is your throw going towards another path? What is behind that bush you are aiming at? Ask yourself, "is this shot safe?". If you don't know, don't throw. It's imperative to avoid areas that are constantly congested like the Cascades, Trowbridge and other popular walking spots as there is just too much possibility for danger, even for putt / approach discs.
Object golf courses that have been laid out, staked or flagged have likely taken public safety into concern but that does not mean players can throw as they normally would on an established course. In new areas, players need to be hyper-vigilant about each and every throw that leaves their hand. As always, if anyone is near by, just wait, wait and wait some more. This was likely their space first.
Remember, disc golf does not end because the course is closed. Field practice, putting practice and object golf can happen in a huge variety of beautiful places in our region with little to no issue. General purpose public spaces exist in every community, using these spaces in our community to practice disc golf has been given the OK. Finding open spaces for practice is always handy whether the courses are closed or not as it provides a low pressure way to work on a skill set.
Where will you choose for your next object golf location?